We help auto repair business owners run more Efficient, Successful and Sustainable workshops using a process called The EVOLVE Program!
---
Dear Workshop Owner,
It's 2022 and both Car Dealers and Workshop Comparison Websites are getting exceptionally savvy in the way they operate and are progressively taking market share from quality aftermarket workshops. They are doing this by providing convenient booking solutions to motorists as well as being somewhat misleading in the way they often market auto service and repair. 
Motorists are being led to believe that they must always return to the dealer to keep their new car warranty intact, are often unaware of the hidden costs that can be associated with capped price servicing plans and beleive that comparing prices between various aftermarket mechanics is comparing apples with apples.
Our philosophy is that motorists can experience a better service at a better price at a quality aftermarket workshop and that the 'cheap' aftermarket mechanics are often cheap for a reason. In order to provide a cheaper service price, inferior quality parts are often used and said mechanics often do not invest in the required level of equipment, tools and training in order to provide a high standard service to properly maintain a modern vehicle.
Aside from the role we need to play in educating motorists about the importance of seeking 'value over price', many of our target market (particularly the younger demographic) want to research and book their vehicle maintenance after hours on their electronic devices as is demonstrated by countless consumer research studies. 
In line with Mechanic.com.au's mission of helping mechanics to become better mechanics since 2017, we are pleased to provide our EVOLVE Program to help quality aftermarket workshops compete and thrive in the digital age that is upon us.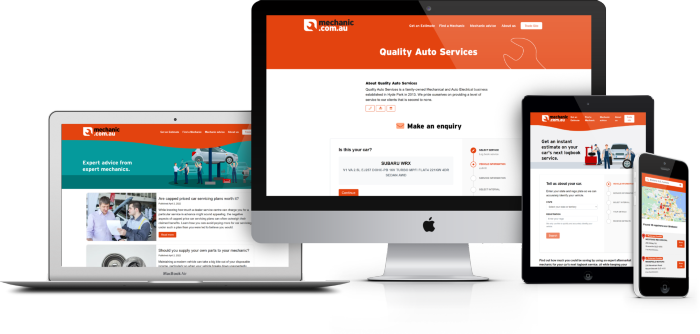 The EVOLVE Workshop Program
A revolutionary program that is helping auto repair business owners run a more efficient, successful and sustainable business.
Our Premium Business Listing saves you time every day by handling customer education, generating high quality leads and taking service bookings so you can spend more time working on your business, not in your business.

Easily and Effortlessly keep up with the latest technology, improve the efficiency of your business and connect with other Leading Workshops with EVOLVE Academy.
Where can I learn more and apply?
You can find a detailed description of the EVOLVE Program inclusions by logging into the Mechanic.com.au Trade Website.
If you are not already a member, you can create an account below.